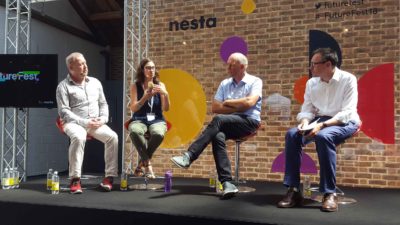 NordGen has been a partner to the interdisciplinary research program "Assembling Alternative Futures for Heritage" contributing with knowledge and input regarding long term conservation of plant genetic resources and seeds. The cross-sectorial program that started in 2014 compares a range of conventional and unconventional future-making practises from a number of heritage and heritage-like fields.
How to conserve for the future?
The programme leader Professor Rodney Harrison at UCL explains that the aim is to better understand how current speculations regarding what and how to conserve in the present actively shape our material, ecological and social futures. The project includes partners from several countries, and a broad range of methodologies have been applied in the program.
At one of the festival stages, the NordGen Seed Vault Coordinator Åsmund Asdal presented the Seed Vault and participated in a panel discussion chaired by Professor Harrison together with Mafalda Costa from the Frozen Ark project and Martin Kunze from the Memory of Mankind project. Both Harrison and Kunze have previously visited the Seed Vault in Svalbard.
When is the future?
The discussions touched upon the items that are conserved in the three projects; how material is conserved, when is the future these items are conserved for and how the material will be used in the future.
In addition to ordinary stages and performances that are common in Festivals, the FutureFest in the heart of London has created a forest or garden where speakers were invited to meet smaller groups of festival participants in a more informal and intimate way. The organizers advertise a walk in the garden like this;
A multi-sensory walk
"Visitors to The Garden will take an immersive, multi-sensory journey from darkness to reawakening. Entering a dystopian, barren landscape, fragments from the urban environment point to a broken relationship with the natural world. But moving through The Garden, visitors arrive at a reimagined alternative where humans are no longer in conflict with nature, but have forged a new symbiosis and a new harmony between people, nature and the urban environment."
The FutureFest festival gathers an audience of about 4000 participants over the two days, and a comprehensive list of speakers are conveying their ideas and participating in debates; among these well-known individuals like Nicola Sturgeon, Annie Mac, Akala, Ruby Wax OBE, Sir Nick Clegg, Paul Mason, Jude Kelly CBE and Imogen Heap.