In all, 11 genebanks from around the world deposited 97 boxes containing a total of 19,391 seed samples, bringing the number of samples held in the Seed Vault to 1,165,253.
It was a truly global event, with genebanks from Bosnia and Herzegovina, Brazil, Côte d'Ivoire, Lebanon, Lithuania, Peru, Poland, Spain, the island of Taiwan, Uganda and USA participating.
This was the first time that the national genebanks of Lithuania and Spain deposited seeds in the Seed Vault. Lithuania's Vice Minister of Environment Danas Augutis delivered the first seeds from his country, assisted by officials from the genebank at the State Forest Institute in Kaunas, where the seeds were produced and packed.
The deposit contained 123 seed samples of 28 different species, including cereals, vegetables and forage plants. "We are delighted to be safeguarding this genetic heritage in the Seed Vault," said the minister. "Our farmers and breeders have developed crops and forages for a wide range of conditions, including hot summer days and cold nights, and this is reflected in the seeds we are depositing today. This will, I hope, be the first of many such deposits."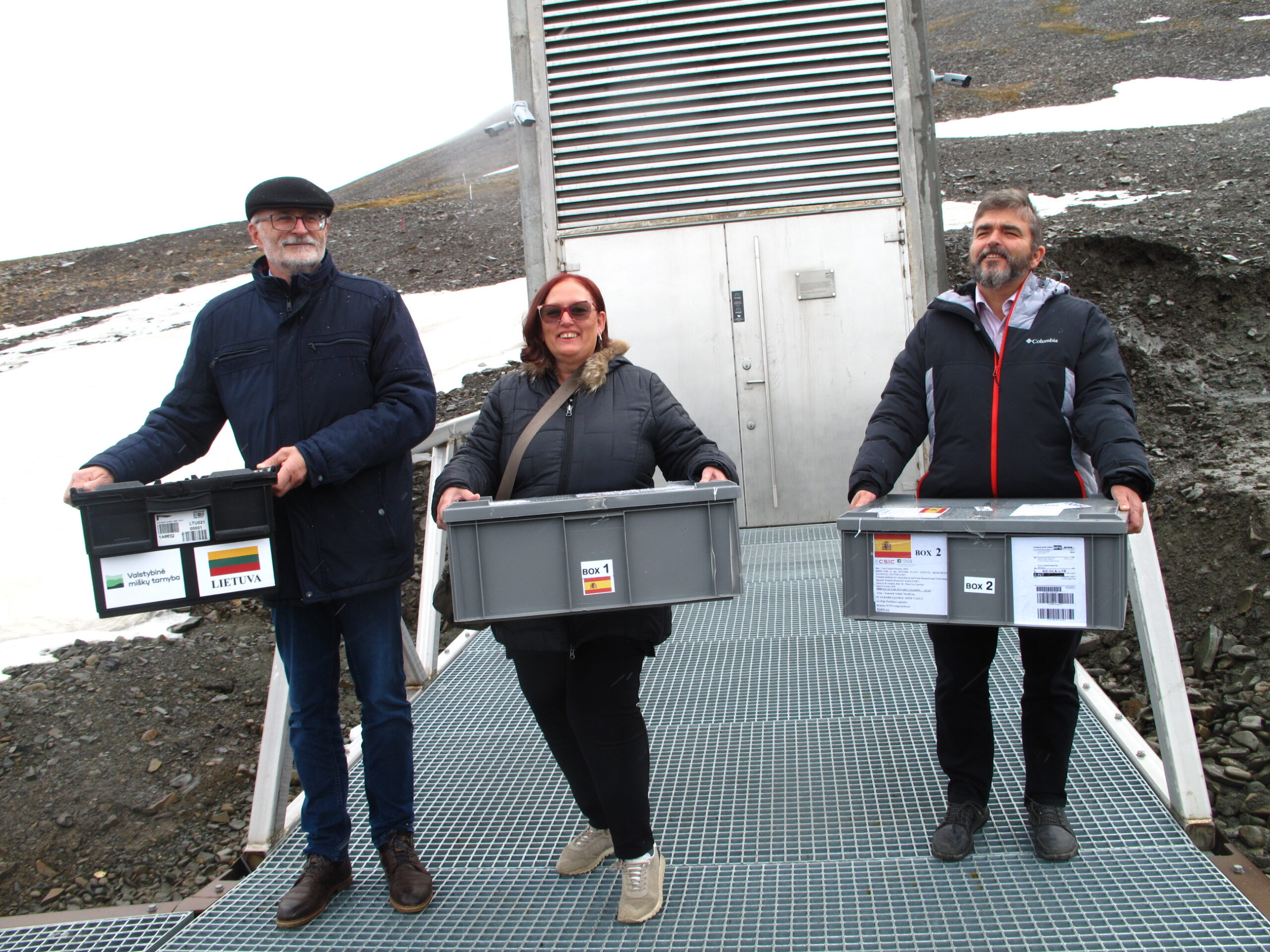 The first Spanish deposit was assisted by two officials from the Agencia Estatal Consejo Superior de Investigaciones Científicas and contained 979 seed samples of 102 species, mostly cereals and vegetables.
"The crop diversity in these boxes is an invaluable source of diversity in the efforts to adapt crops to rapidly changing climatic conditions," said Luis Guasch, Director of the Spanish Plant Genetic Resources National Center. "These seeds are part of our collective human heritage, which must be tackled by us all, and this is our first contribution."
The Spanish deposit includes 111 samples of maize, 60 samples of tomato, and "crops that have nearly disappeared from our farmers' fields, like grasspea and black chickpeas," added Guasch.
Svalbard June 2022 Deposit
| | | | |
| --- | --- | --- | --- |
| Institute | Country | Seed samples (accessions) | Boxes |
| Genetic Resources Institute, University of Banja Luka | Bosnia & Herzegovina | 270 | 1 |
| World Vegetable Center (WorldVeg) | Island of Taiwan | 11,113 | 59 |
| Seed Savers Exchange | USA | 99 | 1 |
| Plant Breeding and Acclimatization Institute (IHAR) | Poland | 1,025 | 3 |
| International Potato Center (CIP) | Peru | 81 | 1 |
| Spanish Plant Genetic Resource Center | Spain | 979 | 10 |
| ICARDA, Lebanon | Lebanon | 3,446 | 14 |
| Uganda National Genebank | Uganda | 169 | 1 |
| AfricaRice | Côte d'Ivoire | 1,142 | 2 |
| Station Federale de Recherches en Production Vegetale de Changins | Switzerland | 944 | 4 |
| State Forest Service | Lithuania | 123 | 1 |
| Total | | 19,391 | 97 |