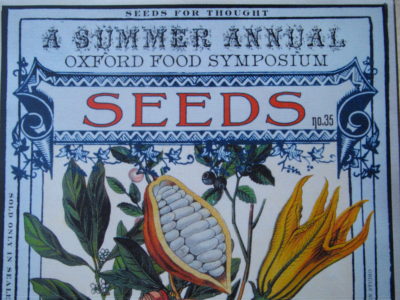 The Oxford Symposium on Food and Cookery traditionally gathers a wide range of passionate and enthusiastic participants; from food-writers to historians, anthropologists, botanists, archaeologists, journalists, scientists, students etc. The symposium organized at St Catherine's College at Oxford University, claims to be the oldest and most important gathering on this topic. It brings together more than 200 attendees from all over the world for presentations and discussions about the themes at hand.
Spectacular seed recipes
In addition to NordGen speaking about conserving seeds in the Global Seed Vault in Svalbard, key note speakers are coming from the Millennium Seed Bank, part of the UK Royal Botanic Gardens at Kew, Tel Aviv University and Washington State University, all dealing with seed science.
Quite natural, the symposium is also known for its spectacular meals designed to accompany each year's theme. Lunches and dinners during the symposium this year included seed dish recipes and inspiration from countries like Ukraine, Georgia, Persia, Burma and Israel and seeds from a wide range of crops.
The extraordinary features of seeds
As the rationale behind choosing seeds as the symposium theme for 2018, the organizers reiterate some seed facts on their websites; "Seeds are food in themselves, and they contain or promise multitudes of other foods. Without seeds there would be no bread or rice, no pint of beer or cup of espresso, no coconut, and no chocolate. We cook and eat in a world of seeds.
Seeds travel well, and they are durable. Seeds transported across the world – whether by natural forces such as winds or by travelling humans – have enabled people to eat a far more diverse diet than would otherwise have been possible. And unlike most other foods, seed can last almost indefinitely before it is used. "