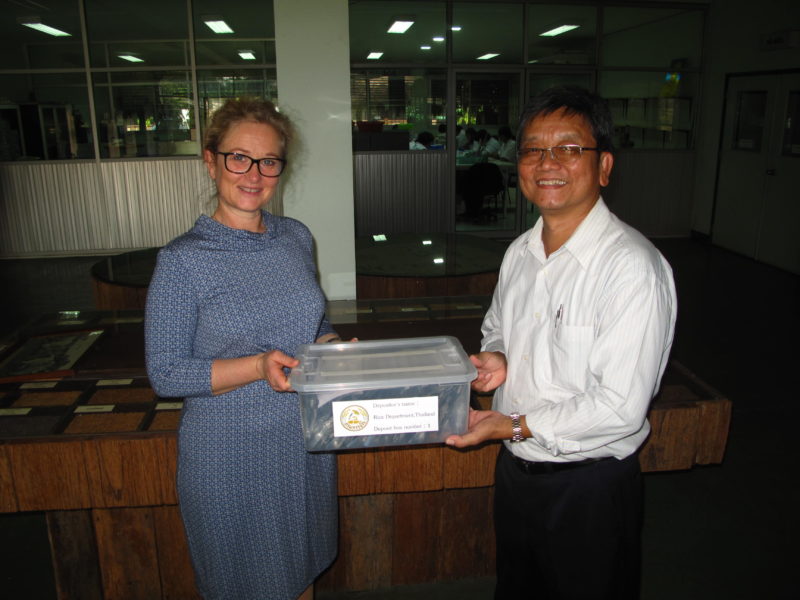 Director of Department of Agriculture (DOA) gene bank Kunyaporn Pipitsangchan explains that the vision is to serve as a center of excellence for the conservation of plant genetic resources of Thailand, towards leadership for conservation of plant genetic resources in the South East Asia Region. For this purpose DOA has invited NordGen to provide gene bank knowledge and to assist in the process towards a functional National Plant Genetic Resources Center (NPGRC).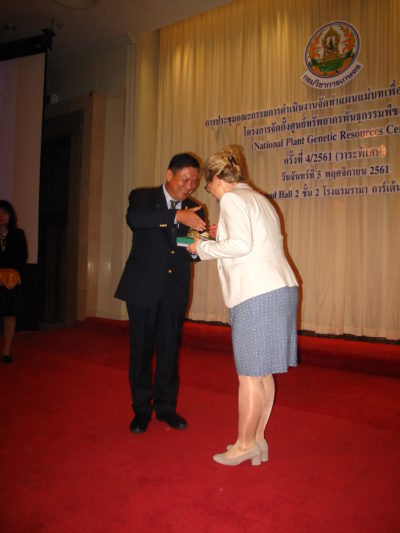 Since 2015, staff from NordGen has regularly visited Thailand and colleagues from Thailand have vice versa visited both NordGen headquarters in Alnarp, Sweden and the Svalbard Global Seed Vault. Quite recently NordGen director Lise Lykke Steffensen and colleagues gave lectures at the NPGRC 4th meeting of the Master Plan Drafting Committee for the Establishment of the National Plant Genetic Resource Center, chaired by Mr. Luck Wajananawat, Deputy Minister of Agriculture and Cooperatives.
A broad range of partners
The 17 organisations that will be coordinate activities within NPGRC comprise three ministries (Ministries of Agriculture and Cooperatives, of National Resources and Environment and of Science and Technology) and partners and players among universities, private companies and other organizations and offices.
During the travel to Thailand, NordGen visited several of the center partners. Three of them are gene banks that already have deposited seeds in the Seed Vault; DOA gene bank, National Rice Seed Storage Laboratory for Genetic Resources (NRSSL) and the Plant Genetic conservation Project under the Royal Initiation of Her Royal Highness Princess Maha Chakri Sirindhorn (RSPG).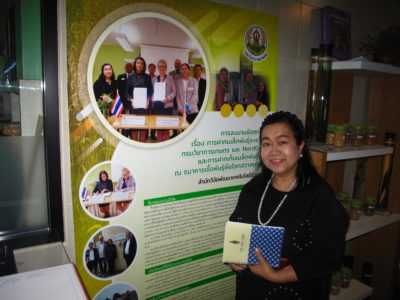 Rice a major crop
While DOA gene bank in Pathumtani has a wide range of crops represented in their more than 32000 gene bank accessions, NRSSL is specialized on rice. Responsibilities are conserving the Thai rice germplasm collection, characterization and evaluation og the material and different germplasm services, E.g. NRSSL has released more than 100 new rice varieties to farmers during the last decades. The seed collection comprises both cultivated varieties and wild rice relatives. There are five species of wild rice in the native Thai flora, all of them collected and represented in the NRSSL seed collection.
Her Royal Highness Princess Maha Chakri Sirindhorn has a long lasting commitment and engagement for improving agriculture and Food production and conservation of plant genetic resources. She has also visited the Svalbard Global Seed Vault at the occasion of seeds deposited from Chainat Field Crops Research Center in 2013. NordGen visited her project at the Royal Chitralada Palace, that comprises gene banking of seeds, in vitro conservation and a molecular lab.